Awesome News! The TRT Manual And Facebook Group Access Is Now FREE!
I constantly promote and refer to an excellent guide on testosterone replacement therapy called "The TRT Manual" by Jay Campbell. Especially in my YouTube videos on TRT.
This book is the definitive guide to optimizing your testosterone for lifelong health and happiness.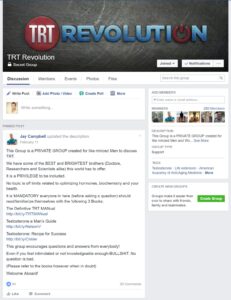 Along with the book, came access to the TRT Revolution Facebook Group for people who purchase the book, which was only available for purchase on Amazon.
Until now…
Jay has been extremely kind and made the complete book available as a free PDF download. Not only that, but he has also made access to the Facebook Group available to those interested.
To access the free PDF version of The TRT Manual:  CLICK HERE
To request access the Facebook TRT Revolution Group: CLICK HERE to add Jay as a friend
Good luck gentlemen! Hopefully this starts you on the road of getting your testosterone back to optimal levels and feeling like a man again!